"Come on, let's play some more!"
The Umpire Strikes Back,
Ron Luciano (On recording the last out of the season).
Epic.
The Kansas City Royals are an exceptional baseball team. They are fundamentally sound. The good players play well in the clutch, their great ones...star efforts. Every play is pure, each pitch contested, no lead safe. They are a pleasure to watch. Last night, in front of a sea of blue, it wasn't enough.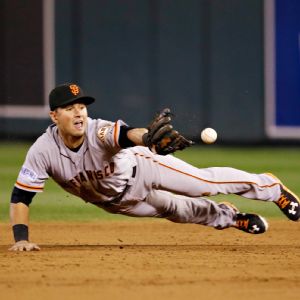 Their home stadium holds around forty thousand people, give or take. They packed in 106% of capacity, Game Seven tickets bringing eleventy billion dollars on the open market. It seemed everyone had on their best Royals regalia (except for the guy sitting in row one behind the plate - red Marlins stuff? WTF was that about?). They had tied the game at two and it seemed the flood gates would soon open, and they would be champs for the first time since the Eighties. Then,
it
happened.
Writing that Madison Bumgarner happened would be easy - the guy was World Series MVP. He'd pitched a gem just two days before, and now came in to relieve Jeremy Affeldt (who played a season and a half for the Rockies, coming over from KC in 2006). KC made every at bat count, fought right down to the last out. In the bottom of the ninth a friend commented that the announcer could stop with the man crush on this player. It's not hard to understand how lavishing praise on the lanky pitcher could happen.
The game turned on a play that began innocently enough long before Bumgarner took the mound. The ball seemed destined for center field, the Royals' fastest player on first. The center fielder would scoop it up, throw to the cut off man and it would be two on, no outs. Any little leaguer knew that KC would small-ball at least one run home. The way they were playing, a big inning seemed about to unfold.
A player with a name right out of Dickens stretched, snagging the ball as he slid on his belly. Okay, so it would be an infield hit. First and second, instead of runners at the corners. But, wait....
Joe Panik didn't. He flipped the ball - scooped it backhand - to short stop Brandon Crawford for one. On to first and.... The runner was initially called safe, having successfully executed the difficult and dangerous head first slide. Replay revealed that he was, in fact, out by an inch. At most. The bases were empty, two out. Whatever might have happened with those runners didn't.
Bumgarner's heroics could have all been for naught had the third inning turned out differently. A rookie (Panik came to San Francisco in June), a desperately instinctive move and an inch.... Today in KC they would be celebrating a win.
Madison Bumgarner admitted after the game that he was exhausted. He, and his teammates, had nothing left. Oh, they cavorted like kids and sprayed cheap champagne on each other. Maybe the plane ride home was chaotic (although, in 2007 the World Champion Boston Red Sox stayed in a Downtown Denver hotel and left the next day). The only way to beat a really good team is to be really good yourself, and give everything you have to the effort. It makes for epic baseball.